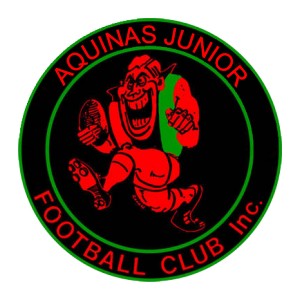 Season 2017 Coaching Positions
Aquinas Junior Football Club is seeking applicants for its
Under 13s Boys, and Under 13s Girls
The Club is located at Aquinas College, Great Ryrie Street Ringwood, and is affiliated with the Yarra Junior Football League. The Club is a new club and its establishment has been fostered by the Aquinas Old Collegians Football Club.
The vision of the AJFC is to be the primary choice football club for students attending
Aquinas College, together with juniors from surrounding suburbs, through the provision of
high quality coaching and an enjoyable family atmosphere in which there are wide ranging
opportunities for all.
The aim for season 2017 is to establish an Under 13 boys and Under 13 girls team with additional teams evolving each year.  The Club has the support of the Aquinas College though the use of facilities and a positive vision for the future.
To be successful in this role, you will need to demonstrate:
Current Level 1 coaching accreditation or a commitment to attain.
A valid Working With Children's Check or commitment to attain.
Demonstrate an awareness of the characteristics of coaching junior football including girls and an ability to integrate this into your coaching approach.
Enthusiastic and positive approach to coaching.
Excellent communication skills.
An ability to undertake a key leadership role at the club.
Well organised and able to develop and establish appropriate training programs that focus on individual skill development in an inclusive and enjoyable team environment.
The club will provide assistance towards attaining the coaching accreditation.   Further details are available by contacting the President Barry Jess on 0418 314849 or at president@aquinas.com.au
Please email applications to juniors@aquinas.com.au